Streamlined Company Registration Process Register Online and Launch Your Startup
Are you an aspiring entrepreneur with a groundbreaking idea? Do you dream of starting your own company and making a mark in the business world? Look no further! Techvigya is here to guide you through the streamlined process of company registration Online , empowering you to turn your entrepreneurial vision into reality.
With the advancement of technology and the growing digital landscape, registering a company has become more accessible than ever before. Gone are the days of tedious paperwork and lengthy queues. At Techvigya, we leverage the power of the internet to provide a seamless online registration experience, ensuring that you can focus on what truly matters – building and growing your startup.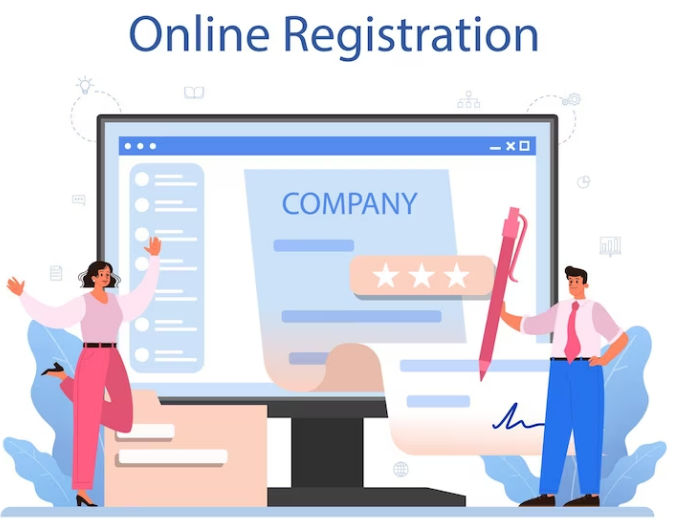 Benefits of Choosing Techvigya for Company Registration:
Hassle-free Online Process:
Techvigya's online platform eliminates the need for physical visits to government offices and reduces paperwork. You can complete the entire registration process conveniently from anywhere with an internet connection. Our user-friendly interface guides you step-by-step, ensuring a smooth and time-saving experience.
Expert Guidance:
Our team of experienced professionals specializes in company registration and understands the intricacies of the process. They will assist you in understanding the legal requirements, documentation, and timelines involved. With their expert guidance, you can navigate the complexities with confidence, knowing that you are adhering to all the necessary regulations.
Tailored Solutions:
Different types of businesses require different legal structures. Techvigya provides tailored solutions based on the nature and scale of your startup. Whether you are a sole entrepreneur, a partnership firm, or a tech startup aiming for substantial growth, we help you determine the most suitable legal structure, such as a private limited company, one-person company (OPC), or limited liability partnership (LLP).
Compliance Made Easy:
Compliance with legal and regulatory frameworks is crucial for any registered company. Techvigya not only helps you with the registration process but also offers post-registration compliance services. We guide you through the necessary steps to obtain tax registrations, licenses, permits, and other compliance requirements specific to your industry. Our goal is to ensure that you stay compliant and avoid any legal complications.
Value for Money:
We understand that startups often have budget constraints. Techvigya offers competitive pricing options without compromising on the quality of our services. Our transparent fee structure ensures that you have a clearly understand of the costs involved right from the beginning. You can rest assured that you are receiving excellent value for your investment.
Company Registration Process with Techvigya
Initial Consultation:
Once you express interest in registering your company with Techvigya, our team will schedule an initial consultation to understand your business and requirements. We will guide you in choosing the appropriate legal structure and gather the necessary information to initiate the startup India registration process.
Document Preparation:
Based on the selected legal structure, we will assist you in preparing the required documents, such as identity proofs, address proofs, and other essential supporting documents. Our team will review and ensure that all documents are in order to avoid any potential delays or rejections.
Online Application:
Techvigya will guide you through the online application process, where you will provide the necessary details and upload the prepared documents. Our platform simplifies the application process, making it straightforward and easy to navigate.
Document Verification and Approval:
Once you submit your application, the concerned authorities will review the documents and verify the information provided. Our team will closely monitor the progress and update you throughout this stage. If any additional information or clarification is required, we will assist you in addressing it promptly.
Certificate Issuance:
After the successful verification of your application, you will receive the Certificate of Incorporation or Registration, indicating that your company is legally registered. This certificate is an essential document for establishing your business identity and can be used for various purposes, including opening a bank account and entering into contracts.
Post-Registration Services:
Techvigya goes beyond the company registration startup and offers additional services to help you navigate the post-registration phase. This includes obtaining tax registrations, such as Goods and Services Tax (GST) registration, Professional Tax registration, and Employee Provident Fund (EPF) registration, depending on the requirements of your business. We also assist in obtaining licenses and permits specific to your industry.
Conclusion
Techvigya is dedicated to simplifying the company registration process, empowering aspiring entrepreneurs to start their.